Ah another weekend has come and is going to be gone. So last week we had breakfast at McD's and when michelle went to get her tiramisu from pizza uno, better known to me as italliano's, we discovered they served breakfast. And someway along the way we actually decided to try it out one day, except i didn't realize one day was this sunday. So since i know that michelle and Daphi are gonna pretty themselves up anyway i decide i need to some practice with my make-up and also so that those stuffs i bought for prom use won't go to waste la. I tend to get lazy to put on make-up especially when its a very short outing e.g breakfast, but WTH. And coz beginner mah, so sure take longer to get things right. So i allocated a longer time before they came to pick me up so that i can do my make-up since last week i barely managed to put on my eye-brow pencil. But a phone call came and it was Daphi asking if she could pick me up yet. Asked for 15 minutes more and rushed of to get my make-up on. Well i did get everything on with time to spare but it wasn't perfect.
Anyhow, so we got there and the place was empty, Its either everyone had their breakfast early, since we were there only at 9 ish 1o or the haven't woke up. We had our pick of tables, sat down and stared bleary eyed at the menu :P since yours truly woke up at 8 in the morning. The breakfast they had were generally divided into English, French, Aussie and i forgot what else. Basically the english breakfast had eggs, bacon, sausage, baked beans and a bun/toast with juice and hot chocolate/coffee/tea. the aussie one is like the english with addition of sauted mushroom. And the french was french toast and cereals and the above mentioned drink i think. I took a look at the price and recoiled with horor. Pay RM 12.50 ++ for a breakfast like that ?
That is the cheapest btw, the rest were a tad more expensive. Well Daphi and Mich did have the english set. But i find the price a tad bit hard to swallow, esp with my current financial situation and it being breakfast. So i just opted for scones and hot chocolate, which was RM 6.00++ . Was contempelating to take latte or hot chocolate, but decided i could take coffee at home. I think i kinda regret my choice. The hot chocolate looked nice but was just alright. All in all, i think i prefer my McD's breakfast. Or even my RM3.50 pork ball noodles. Better still my RM 1.20 nasi lemak ( absolutely heavenly) But i won't mind giving their sauted mushroom a try or maybe their omlette. But that is RM 4.00++ and RM 8.00++ respectively and not inclusive of drinks. Pictures coming right up :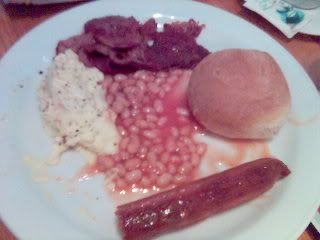 the english breakfast
( looks kinda messy cause by the time i remembered i was suppose to take pics Daphi alr dug into it)
my scones ( ya, i dug into mine before i remembered too)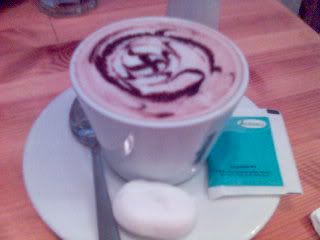 we all had hot chocolate ( wish that was a cappocino :p)
the white blob there is a marshmallow and they gave us a packet of sugar but the drink was actually slightly sweet already so i just used a quarter of a pack.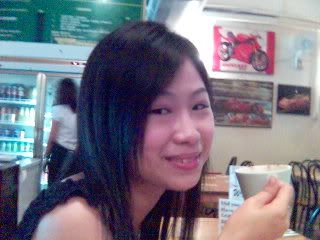 Daphi and her hot chocolate


Mich and her's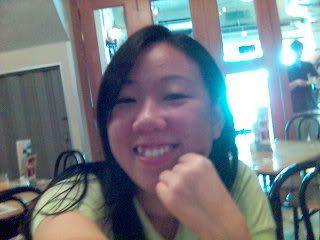 me but no drink since i alr finish mine :P


one for the album :P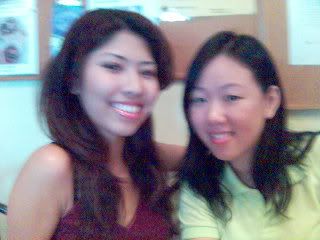 here is another one but its a bit blur


And here is some extras from yesterday which i put in for fun :P